Restaurant
RESTAURANT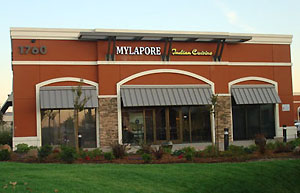 The name Mylapore brings a surge of pleasant memories to many of us. Mylapore is synonymous with the famous Kapaleeshwarar temple, Rangoli festivals, Music Clubs, Raasi Silks, Sukra Jewelry (most recently) and great inexpensive eateries serving mouth watering food. We are also reminded of the expansive vegetable market near the Mylapore tank and The Mylapore Club which till date is the only vegetarian club in Chennai that refuses to serve alcohol unlike its counterparts Gymkhana Club and Cosmopolitan Club.
It is no wonder that Mylapore is often referred to as the cultural hub of Chennai. In our family's maiden business venture, we at Mylapore Restaurant are striving to present a simple vegetarian eatery serving clean and fresh food in a friendly and casual atmosphere.
It is our goal to beat your expectations on a consistent basis. If we are not living up to your expectations please let us know. If we delighted you please let us know too as your encouraging words mean the world to us. You can reach us at 916-985-3500 any time to voice your concerns or questions. Your suggestions and comments are always welcome. Feel free to E-Mail us at madrascoffee@yahoo.com
What we Are, and What we Do:
Simple food that is cooked home style
Freshness you can feel AND taste
Constant R&D resulting in fine-tuned recipes, as well as new dishes
Menu, and accompaniments that are slightly different from the ordinary
Friendly and courteous service
All masalas and podis are sun dried and ground in-house
Pickles are made in house
Coffee beans ground and brewed fresh after you order
No frozen vegetables used
Chutney made with fresh coconut that is grated every day, and ground every hour.
Sudha and Jay